Coverage: Vietnam could become centre of global IT industry
In the press
On August 9, Tek Experts opened a new office on the 16th floor of Lotte Building. At the opening ceremony, Yaniv Natan, chairman of Tek Experts, talked about the company's current business plan for Vie Nam and its recruitment strategy to attract young and talented IT human resources.
What are you looking for in Vietnamese IT workers that will suit Tek Experts' business model?
Tek Experts' business is to support our clients' customers, and our direct clients are among the largest IT corporations in the world who have extremely diversified customer bases, including all industries and all manner of end-users. Our model is to provide on-demand support that is typically offered by the client. For example, when large corporations are struggling or need extra or specialist support, they come to us, and we give them the support they need.

Tek Experts' employees have extensive training in technology, however, the specific skillset required depends on the products our clients offer to their customers. At present, we are looking for talented people with a broad skillset, including networks, databases, security, .NET, data backup and storage, among others.

What made you set up the Viet Nam office in Ha Noi instead of another city like Ho Chi Minh City?
As you know, many enterprises are looking to expand their business in other countries, such as the Philippines, India or China, but we want to invest and bring value to Viet Nam. I like Vietnamese people very much because they are friendly, sincere, open and particularly intelligent. We chose to set up an office in Ha Noi because I enjoyed the temperament of the locals, found them very smart and hardworking, and I believe it has been a wise decision.
We aim to attract talented people from all over Viet Nam, so it does not really matter whether the office is in Ho Chi Minh City or Ha Noi. While it is true that the IT market in Ho Chi Minh City is bigger than in Ha Noi, we want to give people who chose to move to Ho Chi Minh City for work a chance to return to Ha Noi and have a successful and long career.
Since Tek Experts aims to attract 1,000 highly-skilled employees in Viet Nam, have you come across any difficulties in the recruitment process?
The only real challenge I witnessed is that English is still a major problem for IT workers in Viet Nam. I have always thought that Viet Nam will become the second largest base of Tek Experts around the world, but at the same time always wondered how the younger generations of the country can go global if the standard of English remains as it is. Therefore, in addition to professional skills training, we also provide English language training to new employees, with lessons given by native teachers, which are divided into levels to suit the individual. The training lasts for one to two months, and you can see a clear difference by the end. Their confidence when speaking English also improves significantly.
It is not uncommon for IT companies to "steal" talented people from each other. How do you prevent good employees from leaving the company?
I can honestly say that the decision to leave does not entirely revolve around salary. Factors such the work environment, training and development potential, and the chances to progress, all contribute to a happy workforce. That is probably why our resignation rate is very low. Moreover, those who do good work may have the opportunity to visit other international offices and interact with colleagues there. So, that is probably another reason why we keep our people.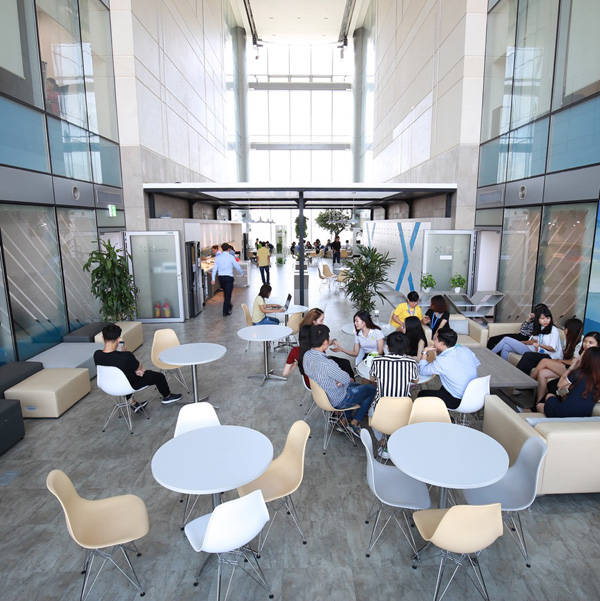 Sky Garden — an open space where people can socialise, share and work together away from a typical formal setting, creating a more family-like culture.
Tek Experts' new office has an open, modern, and very interesting design. Can you tell us the ideas and the philosophy behind this new office design?
The company's philosophy is to make employees feel excited and enthusiastic every morning. We designed the sky garden to be an open space where people can socialise, share and work together away from the typical formal setting, creating a more family-like culture.
We do not force our employees to sit in front of the computer for eight hours straight, and have designed our office space accordingly. If someone is tired, he/she can take time away from their desk, have a cup of coffee, a chat, something to eat, or even a snooze, until they feel ready to rumble. We believe a happy employee will provide the best service to our customers, therefore, we give employees the most comfortable working environment to ensure top performance.
While designing our office, we also wanted to create a quiet and professional working environment. Upon entering the office, you will see many employees talking on the phone, but not hear much noise. With this open space, employees can go to the sky garden and have fun without affecting other people's work. All these elements combine to create a good environment for employees to enjoy working at Tek Experts.
With your experience working in Viet Nam, do you think the country has what it takes to become a human resources centre for the global IT market?
I think Vietnamese people are very hardworking and intelligent, but the language barrier could be the only thing standing in their way to the top. I am sure that with a training strategy to overcome this shortcoming, Viet Nam will become a centre of technology in the world.
Tek Experts is a global supplier of IT and business outsourcing support services. After almost four years in Viet Nam, the company is making increasingly impressive progress, and is currently an attractive destination for Vietnamese talent and a great place for IT students to start their career.
A corner of Tek Experts Vietnam OfficeTek Experts also focuses on individual development and provides many training courses for employees from their first day throughout their employment.
Thanks to the professional, competitive, and nurturing work environment, employees of Tek Experts experience constant growth, with 17.5 per cent of employees receiving a promotion within three years of working at the company, according to a recent survey.
The company is also committed to providing employees with a working environment that is not only professional, but also comfortable. This is evidenced by Tek Experts' new office on the 16th floor of Lotte Centre Hanoi, one of the most dynamic and vibrant offices in the city.
Original: Vietnam News